We have several goals for and overlapping audiences among the readers of Our Father's World. Sometimes we want to inform you with up to date and accurate reporting of the status of God's creation. Our occasional pieces on the fate of the monarch butterfly are an example of that. Sometimes we seek to persuade you, if you need persuasion, that there are serious problems and complacency is not an option. And sometimes we are just trying to share with you our own experiences and viewpoints as we, like you, struggle to figure out how to live lightly in a world that has been damaged by our lifestyle.
This post is different. Many of our readers are working, full-time or part-time or as volunteers, in the field of creation care. I've been doing this work for 15 years, and there are many who have been at it much longer than that. This "ministry", for that is really what it is, can be lonely and discouraging. So much evidence of trouble, so many years of teaching, so little response.   So consider this a bit like a pastoral letter to those of us who have given our lives to this work, and occasionally need to be reminded of why we're doing what we're doing.
I was recently brought face to face with these words from Jeremiah 12:5:
"If you have raced with men on foot
and they have worn you out,
how can you compete with horses?
If you stumble[a] in safe country,
how will you manage in the thickets by[b] the Jordan*?
[or, *how will you manage when the Jordan floods?]
This was during my devotional reading. As sometimes happens, this passage stuck with me through that day and for several days afterwards.
I should not have been surprised at what happened next. I was having coffee with an old friend about a week after my reading described above. We were talking over various things, including my sense of being somewhat overwhelmed by the challenges I see ahead of me, when my friend said without any prompting, "Well, Ed, you remember what God said to Jeremiah, don't you?" and proceeded to quote Jeremiah 12:5.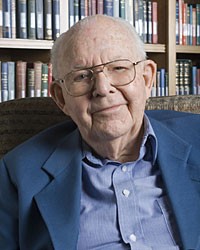 This brought me back rather suddenly to a memory forty years old. (I know many of you have no memories that old – don't worry, the time will come!) I was a student at Denver Seminary, and was facing one of the earliest and most difficult challenges of my life. The Seminary's president was Dr. Vernon Grounds, truly one of the most godly men I have ever met. In the fall of 1977, Dr. Grounds delivered a convocation address to the seminary using Jeremiah 12:5. He called his talk, "Get Ready For The River's Rising", basing his thoughts on the alternate translation I noted above, "How will you manage when the Jordan floods?"
I have listened to thousands of sermons through the years, and have given many myself, but few have stayed with me like Dr. Ground's talk did. So when the same verse came back to me twice in 10 days, it seemed that it would be worthy digging up a copy of that talk. Dr. Grounds is long since in glory, but Denver Seminary was able to find me a copy of what appears to be his original typed manuscript, complete with several typos and has given me permission to share this with you (Click here for the PDF).
So what is Jeremiah, through Vernon Grounds, saying to those of us engaged in the ministry of creation care? Here's a brief recap, though I urge you to read the original. (Emphasis is mine)
If we are called to ministry, we had better get ready for tough times ahead.
Here is how Grounds paraphrases God's message to the young Jeremiah:
"Yes, your service so far has been tough and tiring, but the service that lies before you will prove far tougher. You have been racing against other runners, and they have left you exhausted. What do you think it will be like to run as hard as you can with horsemen in pursuit?… Yes, it has been tough and tiring in decent weather plodding along the plains, walking up and down the hills. What will it be like, then, to fight your way through the mud and ooze of the tangled thickets along the Jordan at floodtide?… Get ready to fight with all your strength as you are caught up in the turbulence of coming troubles. Get ready for the river's rising."
 Grounds was addressing a group of seminarians – pastors in training who had no idea what a life in ministry had in store for them. He knew, with the wisdom of years, that the biggest present challenges of their young lives would soon appear trivial. But his message applies to all of us, and in particular, I think, to those of us working in the area of creation care today.   This is not the kind of work to be engaged in if you need quick results or constant affirmation. "Success" is hard to find, no matter how you define it, and hope is generally in short supply.
We prophets of creation care are more like Jeremiah than we want to admit: We preach a gospel of spiritual and ecological repentance, but with the knowledge that people are unlikely to repent in time, and that disaster is just around the corner. We can see the river (and the oceans) rising, and most of us fear far more than you will ever hear us say in public for our children and grandchildren.
So how do we respond? Grounds goes on to urge us to prepare for these tough times ahead: "We need to develop spiritual toughness in order to face the demanding days that may lie ahead." And he offers two suggestions:
Develop a persistent practice of devotional discipline.
This is a message relatively easier for young pastors and other "spiritual" leaders to grasp. Biblical devotion – time spent in prayer and Bible study on a regular basis – seems to fit with the work that a pastor, counselor or chaplain is called to do. For those of us who work in creation care or environmental ministries, the need is just as great though the connection is not as obvious.   We give talks on climate change. We write articles on tree planting. We get our hands dirty cleaning up riverbeds.
And we sometimes forget that these tasks are just as much in need of the strength that comes from time spent in the Word as those associated with the seemingly more "spiritual" work of the pastor.
Develop a biblical mindset.
Grounds' message here is very relevant for we who are creation care workers:
…We are going to be tragic realists and relative pessimists with our tragic realism and relative pessimism wrapped in an ultimate optimism. For we are going to believe that, despite all the tragedy in the world, right and truth and love will eventually triumph by God's grace and power. I repeat, however, that if we are biblicists, we are going to be tragic realists and relative pessimists. We are going to recognize that history will prove a failure; man's best efforts will invariably backfire and come to nothing; pain, frustration and defeat to the end of time will be woven into the fabric of human experience. But we are also going to realize that the God we serve is lovingly sovereign, infinitely sufficient and unchangingly steadfast; and that ultimately his will is going to be done on earth as well as in heaven.
 In the field of environment and creation care, hope is in short supply. This is certainly true as you read and listen to the voices of the mainstream environmental movement, and even more so when you speak directly and privately with scientists who have made the study of God's world their life's work. The more you know about what is happening in God's creation, the more pessimistic you are about the future. Grounds would suggest that when we look at the situation through biblical eyes, seeing human nature as God sees it, such pessimism is completely justified.
A recent John Ray Initiative Briefing Paper by Richard Bauckham explores the play between optimism and pessimism similar to Grounds, but with a slightly different twist. Bauckham explores "ultimate hope", that is, Grounds' "ultimate optimism", contrasted with "proximate hope" – what we can reasonably hope to achieve even against a gloomy and not very hopeful present. Even Bauckham's proximate hope depends on a good dose of Biblical "faith, hope and love" – which is perhaps what we in the evangelical creation care movement can bring to the larger environmental movement of which we are a part. [It would be a good exercise to study both the Grounds and Bauckham papers together, perhaps you homework for the week?]
The take away for me, and I hope for you: Whether it is Grounds' tragic realism and relative pessimism or Bauckham's  ultimate hope and slightly more hopeful proximate hope, none of these are the end of the story.
And that is this:  God is going to win.
But in the meantime, he has called us, whether we like it or not, to be faithful to our calling no matter how things turn out. As Jeremiah said of himself several chapters later,
For whenever I speak, I cry out,
    I shout, "Violence and destruction!"
For the word of the Lord has become for me
    a reproach and derision all day long.
9 If I say, "I will not mention him,
    or speak any more in his name,"
there is in my heart as it were a burning fire
    shut up in my bones,
and I am weary with holding it in,
    and I cannot.  [Jer 20:8-9]
May that ultimate optimism sustain us through the potentially dark chapters that lie ahead even as we watch the river rising.