Originally posted January 6th, 2011.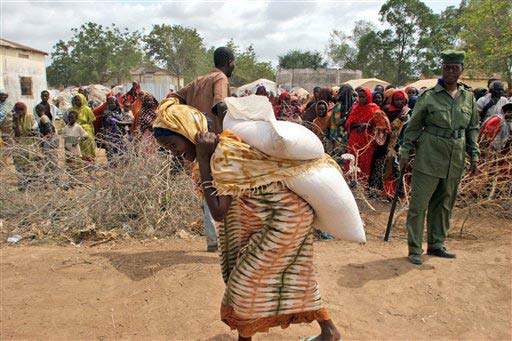 Do we live in a world of limitations or one of potentially inexhaustible resources?
Wayne Grudem, writing in Politics According to the Bible, makes this rather astounding statement in an attempt to persuade his reader that there's really nothing to worry about with regard to the global environmental crisis:
"Long term trends show that human beings will be able to live on the earth enjoying ever-increasing prosperity, and never exhausting its resources." (p. 332)
I'll be doing an in-depth review of Grudem's book in the near future – let's just say for now that it's kind of hard to believe that he and I are living on the same planet.  Case in point: two different news items over the last couple of days:
1. From the BBC and the New York Times – Food prices are on the rise again:
World food prices continued to rise sharply in December, bringing them close to the crisis levels that provoked shortages and riots in poor countries three years ago, according to newly released United Nations data.

Prices are expected to remain high this year, prompting concern that the world may be approaching another crisis, although economists cautioned that many factors, like adequate stockpiles of key grains, could prevent a serious problem.

The United Nations data measures commodity prices on the world export market. Those are generally far removed from supermarket prices in wealthy countries like the United States. In this country, food price inflation has been relatively tame, and prices are forecast to rise only 2 to 3 percent this year.

But the situation is often different in poor countries that rely more heavily on imports. The food price index of the United Nations Food and Agriculture Organization rose 32 percent from June to December, according to the report published Wednesday. In December, the index was slightly higher than it was in June 2008, its previous peak. The index is not adjusted for inflation, however, making an exact comparison over time difficult.
Notice once again that it is the poor who are bearing the brunt of a mismanaged world system.
2. Something you probably have noticed more than food prices:  The price of energy also continues to rise, with predictions of $5 gas (in the US; it's already well over that in many parts of the world, of course) and $100 per barrel oil:
"Oil prices are entering a dangerous zone for the global economy," Birol told the Financial Times. "The oil import bills are becoming a threat to the economic recovery. This is a wake-up call to the oil consuming countries and to the oil producers." (The Guardian, citing a new report from the International Energy Agency)
Look for a lot more price disruption throughout the world (and your local) economy as the effects of the Australian floods on wheat and coal prices combine with the previous damage caused by the Pakistan floods last summer on wheat and cotton.  You might want to add to that list increasing difficulties in manufacturing electronics of all kinds because of a worldwide shortage of the rare earths necessary for their manufacture, 90% of which are subject to a new rationing system by China. A fascinating sidebar to this story comes from India, where it appears there are severe shortages of… sand. (A couple of years ago there was a trade spat between Singapore and Indonesia over the same commodity.  Who would have thought we'd ever run out of sand?)
It would be really nice to be able to believe with Grudem that we could live here forever without exhausting the resources on this finite planet.  I hope he'll understand why I'm not quite convinced.