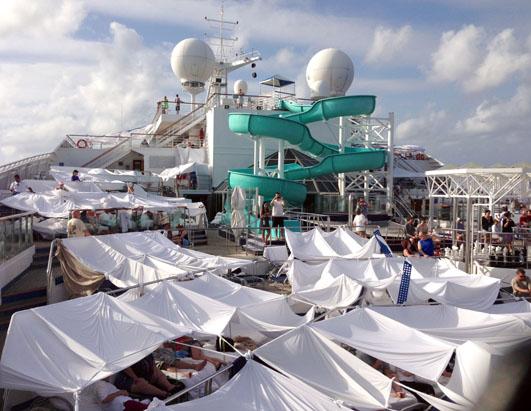 Headlines from November, 2010:  Carnival Splendor finally reaches San Diego dock; passengers begin to disembark.
and from February 15 (today), 2013: Carnival Triumph Cruise Ship: 'Blessed' Passengers Return Home With Stories of Horror
Jesus rebuked people in his day who were able to predict the weather but unable to understand the signs of history right in front of them: "When it is evening, you say, 'It will be fair weather, for the sky is red.' 3 And in the morning, 'It will be stormy today, for the sky is red and threatening.' You know how to interpret the appearance of the sky, but you cannot interpret the signs of the times. 
Perhaps it is time we learned to interpret some of the parables that are right in front of us.  You think?
We covered the original Carnival Splendor debacle here.  Today's story is almost identical.  Fire in the engine room, life support systems throughout the ship are disabled, 4000 passengers and crew find themselves helpless and miserable.
A couple of highlights from my original blog post fit with this latest story as well:
Some on the internet have taken to mocking the reports of an ordeal – but I'm not one of them.  I've checked the floor plans for this ship – it looks like a good third of the staterooms are on the inside, with no views, no natural light, and no ventilation if the air conditioning system breaks down.  The plumbing runs on a vacuum system – gravity won't help if the power is out.  And considering the presumed average age of people who take these cruises, most are retired, and therefore  have plenty of health issues.  So put yourself in an interior cabin on a lower deck with no light, no air, no water, no toilet, no elevator to get to the upper floors where your food might be waiting for you, and no way to climb the stairs.  I would say this easily falls into the category of an ordeal.
How is this a parable?  We are all living a on cruise ship – a space vehicle we call Planet Earth.  And we do not realize until something like this happens how dependent we are on a thousand invisible 'systems' that keep us comfortable, allow us to function and be productive, that, in fact, keep us alive.  Again from the earlier post:
The "engine room" of our planet consists of topsoil, and healthy forests and a balanced atmospheric system, and all of these have sub-systems that in many cases we are only now beginning to understand.  The system provides us with oxygen, water, food –and everything we do, from walking in our gardens to listening to a concert to driving to work to worshiping in church depends on this system.  If the system fails, we're in big trouble.  [My colleague Cal DeWitt does a great job of summarizing the provisions provided by this planetary engine-room in his book Earthwise.]

Like the Carnival Splendor [and now, Carnival Triumph (great name!)], the engine room of planet earth is failing. This isn't alarmism, and we're not talking about "might fail" or "will fail in the future" but "is failing now."
One of the younger passengers, interviewed by the LA Times, learned some important life lessons from her cruise on the Triumph:
But she learned how to survive, and something else.
Before leaving the port Friday, headed for a local hotel, Allie said she was newly grateful for "food, warmth, water and plumbing."
"You kind of know what you have when it's gone," she said.
I see two lessons from this parable:  First, divides immediately appear between the 'haves' and the 'have nots'.  Some people have windows that open, and are on deckts high enough to escape the sewage problems.  Many others are in the bowels of the ship with experiences more like this:
Gill and his wife Cindey Gill had a stateroom on the first level, but "sewage came up through the shower drain, pooling in the sink and squishing in the carpet," she said, forcing them to seek out places to stay on upper levels.
"Some of the people in the upper areas had plenty of air, but down below, it was unlivable," he said.
"It was like a sauna of sewage," Cindey Gill said.
At the risk of beating the same drum over and over again, this situation mirrors the global environmental crisis perfectly:  Many of us live comfortably, but that comfort is being had at the expense of millions or billions of people in other countries, who absorb pollution from our cheap electronic devices and suffer the early first effects of climate change in their own backyards.
The second lesson from this parable is that human beings can – and often do – behave selflessly and honorably in the face of enormous challenges:
When they noticed no one from Carnival was stepping up to help the elderly and sick get around, they and other passengers offered to help, Gill said, carting mattresses and bedding up from the lower decks.
"It was the people on the boat that saved Carnival," Gill said as he stood in the port parking lot after disembarking, luggage in tow, his wife beside him in a Carnival robe.
On Monday, he started gathering with a prayer group, where people worried about getting sick at sea, about their kids and jobs back home. By Wednesday, they had attracted 200 people. Gill said he was discouraged to see people get drunk and disorderly — and he's no teetotaler, he had a beer that night too.But he was encouraged to see so many fellow passengers help out.
"In an adverse situation, most people will rise to help — that's just the human spirit," he said.
So, what lessons do you take away from this?  There is the obvious lesson of staying away from Carnival Cruise Lines for a while – but we can't really "stay away" from cruising on Planet Earth.  We can prepare to act selflessly and honorably as some of the passengers did when the planet's systems start to fail.
But we might also want to start asking whether it might not be worthwhile to start repairing our planet's life-support systems so as to avoid the problems in the first place.  That is what creation care should be all about!
Here's an interview with some of the passengers: